Oppo A54 Overview
The Oppo A54 is among the best mid-range smartphones money can buy. There's a lot of competition for similar-priced smartphones in the market, and Oppo A54 just seems to stand out from the rest. We're talking about huge the Ram, Internal space, superb cameras, and other fine specs that the smartphone showcases at a pocket-friendly price. We're also seeing some high-end features like IPX4 Waterproof capabilities and Quality control.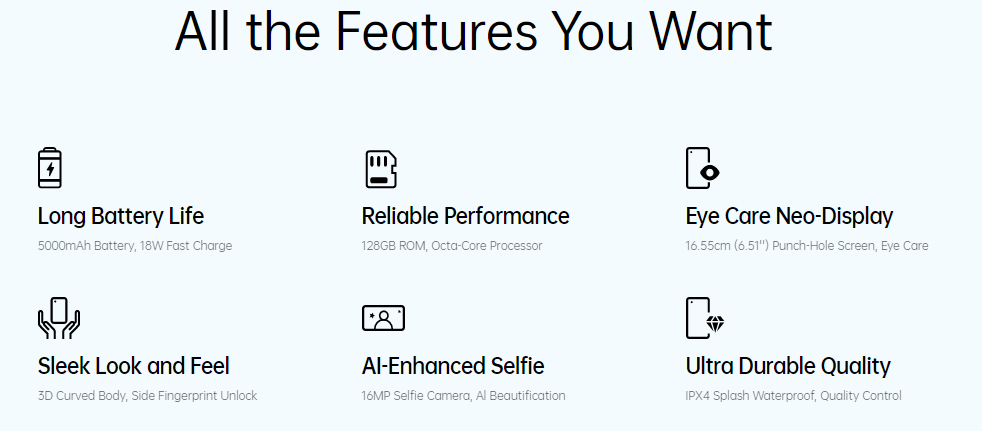 What more is in store for us? Let's find out.
The Oppo A54 Phone Key Features
4GB RAM
128GB ROM
5000mAh Battery
51-inch Display
35GHz Octa-Core Processor
13MP+2MP+2MP Rear Camera
16MP Selfie Camera with AI Beautification
4G/3G/2G/Wi-Fi
Phone Key Specifications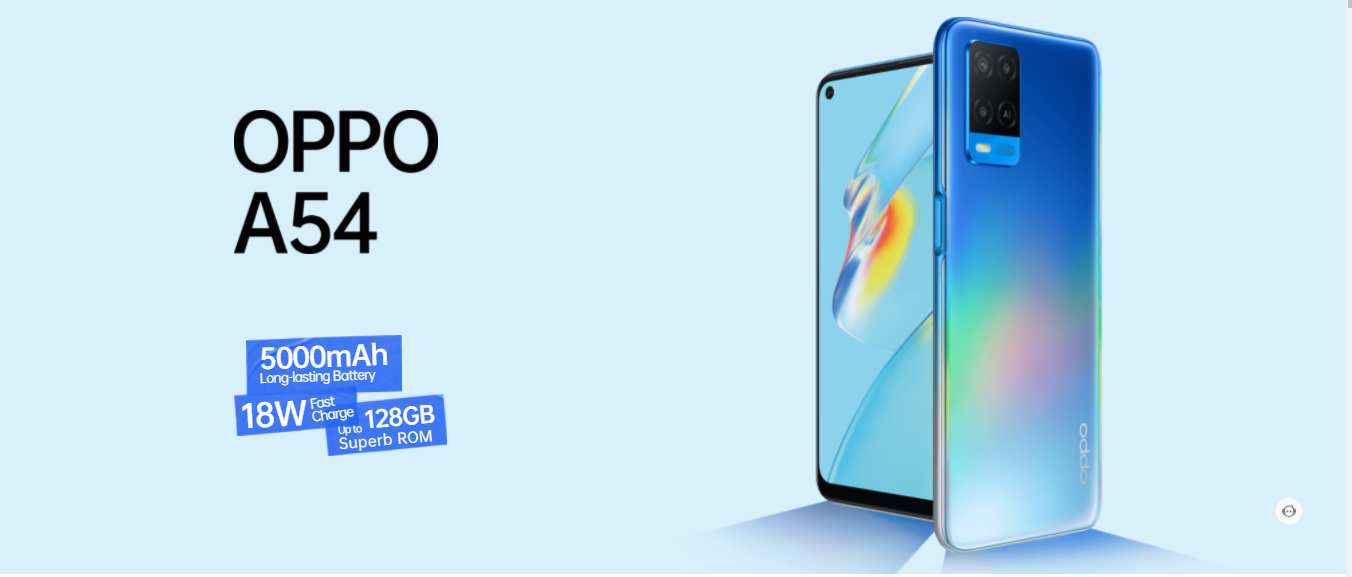 Triple 13MP Rear Camera
Oppo is popularly referred to as 'The Selfie Expert' due to its ability to capture breathtaking front-facing shots. However, the primary camera does not receive enough credit for the outstanding work it does. With the main triple-designed camera, professional-grade portrait shots become a norm. The 13MP f/2.2 is loaded with an auto-focus feature that snaps your pictures as fast as you can blink! It comes with several shooting modes like Time-lapse, Panoramic, portrait, etc. Which is your favourite?
Oppo's selfie cameras are praised for a reason! The Oppo A54's selfie comes with a 16MP lens that shoots arguably better than most selfies within the phone's pricing point. It also outdoes the main camera, so you know what quality we're having at hand here. Photos come at a maximum size of 4624*3468, and this should be your phone if you love posting on social media.
Videography is above expectations on the Oppo A54, and you get extra features like Slow motion capture and video zoom; all without sacrificing video quality.
Slow-motion is not supported on the selfie camera though.
Huge 5000mAh Battery
What's probably better than going the whole day with your phone charged? Few things can beat that type of happiness. The Oppo A54 gives you that type of assurance with its 5000mAh battery. The battery can last for as long as two days on mixed usage. However, if you're a tough gamer, then you can squeeze around a whole day before you result in charging.
Charging is also super-fast with the 18W Fast Charge included option.
Reliable Display
The most important part of your smartphone is your screen. That's pretty much the reason you're looking at it right now. It connects you to the outside world and other services you couldn't possibly reach without it. For that reason, it needs to be of the correct quality and size.
Oppo A54 offers you a bigger (6.51-inch) screen for better viewing. The screen features a punch-hole display that sits in a good place among the most stylish-looking phones in the market. Style aside, this screen is made to make your eyes feel comfortable to facilitate long usage. With the Smart Moonlight and Sunlight screen, oppo automatically changes the screen lighting to create an Eye Comfortable Mode that is healthier for your eyes.
The screen is of good quality, and gaming and media come in just handy.
Powerful Processor
You should always consider your phone's processor when making a purchase. I mean, who wants a slow and unreliable phone? That's definitely not me. The Oppo A54 hits a clock speed of 2.3Hz and is powered by a reliable Octa-Core that ensures the smooth running of operations. Coupled up with the screen's 120Hz refresh rate, even the most demanding mobile games won't see a glitch.
All that is supported by the 4GB RAM and 128GB Inbuilt storage that comes with the phone. The internal storage can be doubled up to 256GB by the use of an external SD Card.
Final Take
The Oppo A54 showcases a great-features portfolio that covers some of the best features a customer would prefer in a smartphone. The Oppo A54 price in Kenya is somewhere around Ksh 26,000. Grab your piece today at Payson Mobiles at a discounted price